Editor's Note: The theme of the Gohan Lab is to help people prepare simple and tasty "gohan" (meals).
* * *
While eggplant and oil make great partners, grilled eggplant also makes an enticing and appetizing dish. When the skin is toasted and peeled off, the texture becomes thick and smooth, and the toasted flavor will make you want more.
Peeling becomes easy when the eggplant is cooked over direct heat on a grill rack and the skin is well charred. When this is done, submerge it in water and then quickly remove the skin. This way the eggplant will not turn runny and should stay warm inside.
While you can use your kitchen's built-in fish grill, cooking eggplants will take longer than when cooked over direct heat.
One of the great characteristics of grilled eggplant is that a variety of different touches can be added, making it a very flexible dish. For example, dishes where the eggplant is dressed in a sesame or peanut based sauce mix well with the lightly fragrant eggplant with the rich taste of the sauce.
Grilled eggplant can be easily westernized in a marinated dish if you sprinkle it lightly with salt and pepper and pour a little olive oil on top. You can also chop it up and use it as an ingredient for a tomato-based pasta sauce.
This week's arranged version features a Middle Eastern-style dip marked by the flavor of white sesame seeds.
SELECTION AND STORAGE OF EGGPLANTS
An eggplant expert at Takii & Co., a vegetable seed and nursery company known for the 'Senryo' variety of eggplants, gave advice on how to choose crispy and flavorful eggplants and how best to make them. keep them.
The secret is to choose eggplants with dark, shiny skin and the right amount of elasticity. If the cut end of the chalice has turned brown, it means that several days have passed since it was harvested. Try to buy some with chalices that haven't changed color.
Avoid storing eggplants at a low temperature and prevent them from drying out.
To prevent their water content from evaporating, wrap the eggplants in newspaper or other material, place them in a plastic bag, seal it, and store it in the crisper of your refrigerator. As small bumps and discoloration can appear on the surface when cooled too long, eggplants should be eaten as quickly as possible.
BASIC COOKING METHOD
(Supervised by Akiko Watanabe for the cooking aspect and Midori Kasai for the culinary science aspect)
* Ingredients & Utensils (Serve two)
2 eggplants, grill rack, fork
About 15 kcal and 0 grams of salt per serving
1. Rinse the eggplant and pat dry. Place the cooking grid on high heat. Adjust the heat level so that the tip of the flame touches the skin of the eggplant (PHOTO A).
2. Grill for about 1 minute without moving the eggplants. Turn a little and grill for another minute. Repeat until the entire surface turns black. It may take about 5 minutes in total. As the wooden chopsticks can burn, it is preferable to use a fork (PHOTO B).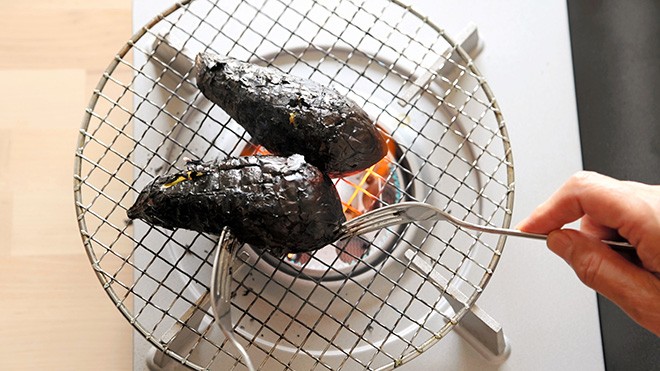 3. Immerse the burnt eggplant in water then remove the skin by rubbing with the tips of the fingers (PHOTO C). Once most of the skin is removed, drain the water and then fill it. Rinse and drain the eggplants through a sieve. If it is peeled quickly enough, it will still be warm inside even after being submerged in water.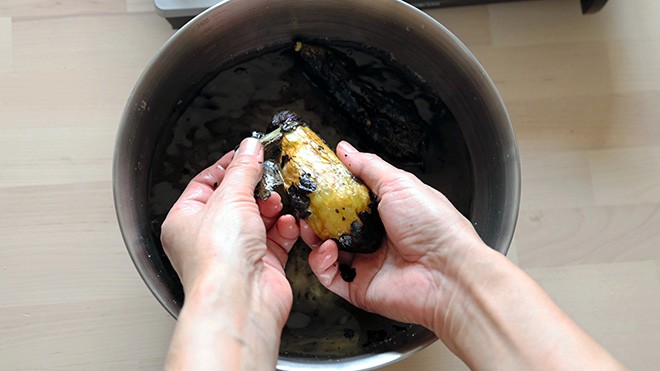 4. Serve on the plate. Garnish with grated ginger or dried skipjack tuna shavings and season with soy sauce or a noodle dip to taste. It is also good in miso soup.
Charred the skin of the eggplant well over direct heat. Immerse the eggplant in the water and quickly remove the skin. (Video by Masahiro Goda)
* * *
Akiko Watanabe is a cooking expert specializing in Japanese cuisine.
Midori Kasai is a professor at Ochanomizu University and former president of the Japan Society of Cookery Science.
ARRANGE VERSION
Middle Eastern style eggplant dip (for two)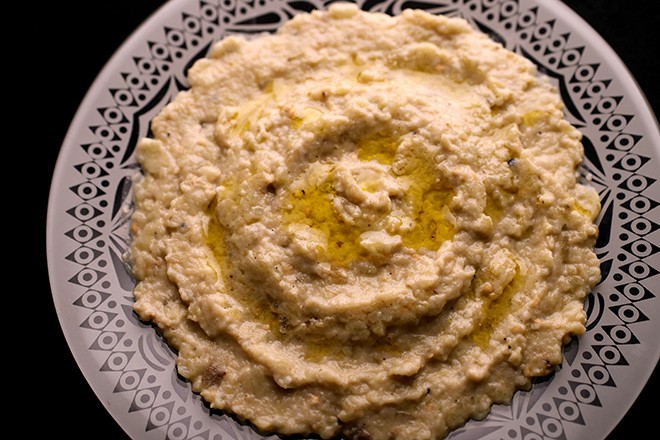 Dry 2 grilled and peeled eggplants and cut the chalice. Finely chop with a kitchen knife, then reduce to a paste. Grate 1/4 of a garlic clove. Add the garlic, 2 teaspoons of white sesame paste, 1 teaspoon of lemon juice and olive oil, 1/4 teaspoon of salt and a little black pepper in a bowl and mix .
Add the eggplant and mix more. Serve flat on a plate and pour in a little olive oil in a circular motion. To taste on thin slices of baguette and others.
KITCHEN SCIENCE
Chlorogenic acid found in eggplants is a type of polyphenol that causes the astringent taste and discoloration of the cut ends. Since discoloration occurs through the reaction of an oxidizing enzyme and oxygen, an effective way to avoid this is to immerse the cut pieces in water to break contact with the oxygen. In doing so, the eggplant is less likely to have an astringent taste when sautéed or fried in oil.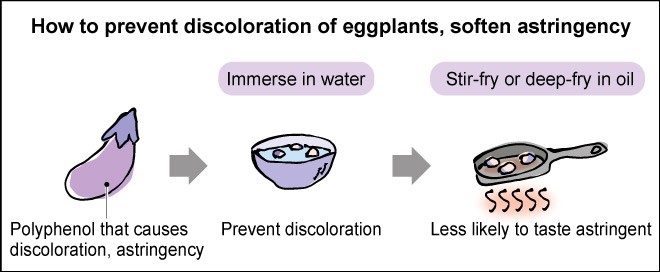 * * *
Extract from the Gohan Lab section of the Asahi Shimbun