Pea and mint dip with radish and feta salsa
Sweet peas take a moment in the sun with this tangy dip. It can be made with fresh or frozen peas, and is also delicious stacked on toast with hard-boiled eggs for breakfast.
Preparation 10 minutes
cook 15 minutes
Serves 6
10 radishes, thinly sliced
Sea salt and black pepper
½ sugar
1 apple cider vinegar
500g peas (fresh or frozen)
2 large cloves of garlic, peeled and finely chopped
1 handle mint leaves, chopped, plus a little for garnish
1 small candied lemon, rind only, finely chopped
3 extra virgin olive oil, plus extra for drizzle
100g of good quality feta, crumbled
Mix the radishes with half a teaspoon of sea salt, sugar and vinegar and set aside.
Bring a large pot of salted water to a boil, add the peas and cook for three minutes or until tender. Drain, then put in a blender with the garlic, mint and candied lemon, and mix. With the engine running, slowly pour in the oil, mix until smooth, then season to taste.
Smooth the dip on a dish and drizzle with a little olive oil. Place the radishes on top and crumble the feta over everything. Spread over the additional mint leaves and serve with bread and raw vegetables.
South Indian Beet Coconut Dip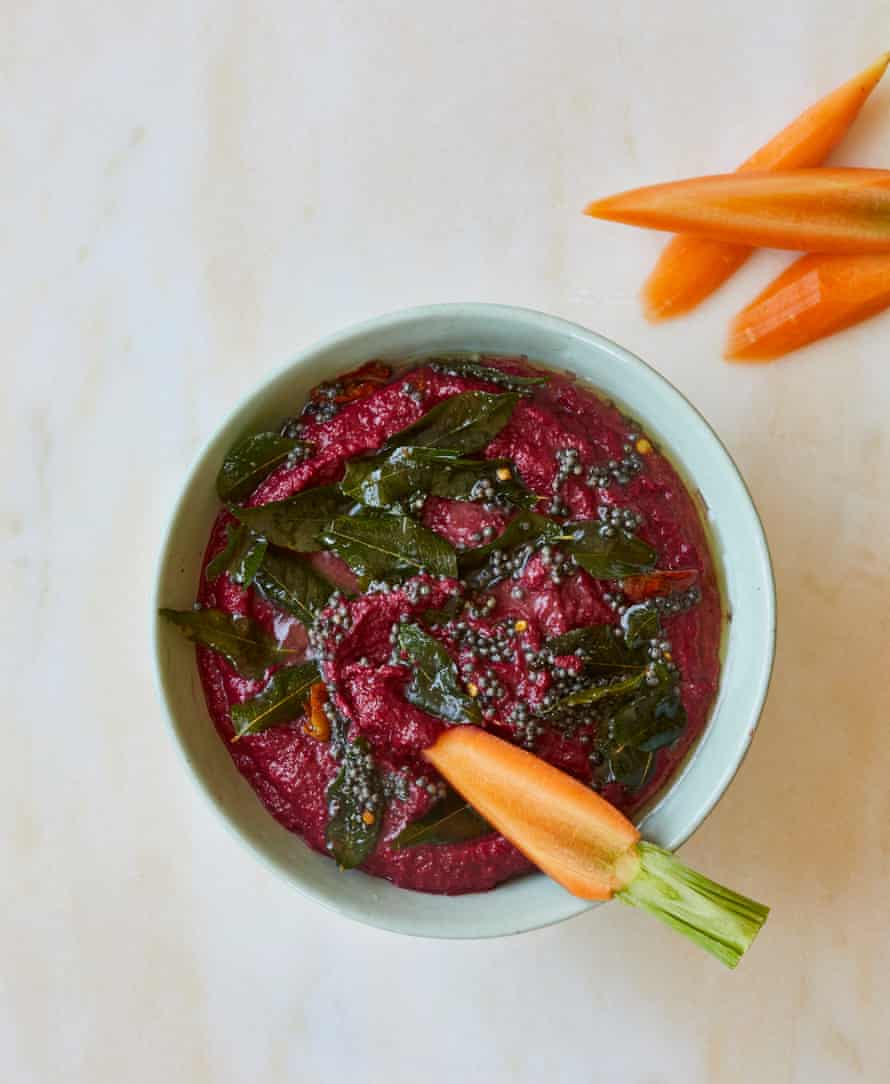 This succulent and vibrant dip with a spicy South Indian dip brings an interesting friction to sweet and earthy beets. Eat it as part of a larger South Indian meal or serve it with paratha shards, which you can now find ready-made and frozen in most Indian supermarkets.
Preparation 10 minutes
cook 30 minutes
Serves 6

1 drizzle rapeseed oil
4 medium beets, peeled and grated
200g of plain or vegan coconut yogurt, well beaten
Sea salt
1 powdered sugar
Juice 1 lime
For the coconut paste
½ brown mustard seeds
1 sesame seeds, wire rack
½ cumin seeds, wire rack
8 cashews, wire rack
100 g fresh or frozen grated coconut
1 green chilli
1 grated ginger
For quenching
2 coconut or rapeseed oil
2 brown mustard seeds
1 pinch asafoetida
15 fresh curry leaves
1 dried Kashmiri pepper, broken
In a large skillet, heat the rapeseed oil and sauté the beets for eight to 10 minutes, until a little tender.
Meanwhile, prepare the coconut paste: mix the mustard, sesame and cumin seeds, then add the cashews, coconut, ginger and chili, add a little water, then mix again to obtain a smooth paste. Add it to the beet pan, cook over low-medium heat for five to eight minutes, then let cool. Blitz smooth, then mix through the yogurt, season with sea salt to taste and stir in the powdered sugar and lime juice. Pour into a serving bowl and set aside.
Heat the coconut oil in a small pan. When hot, sprinkle with mustard seeds and, as soon as they crackle and burst, stir in asafoetida, curry leaves and chili. Pour over the beetroot dip and serve immediately.
Carrot, fennel and goat cheese dip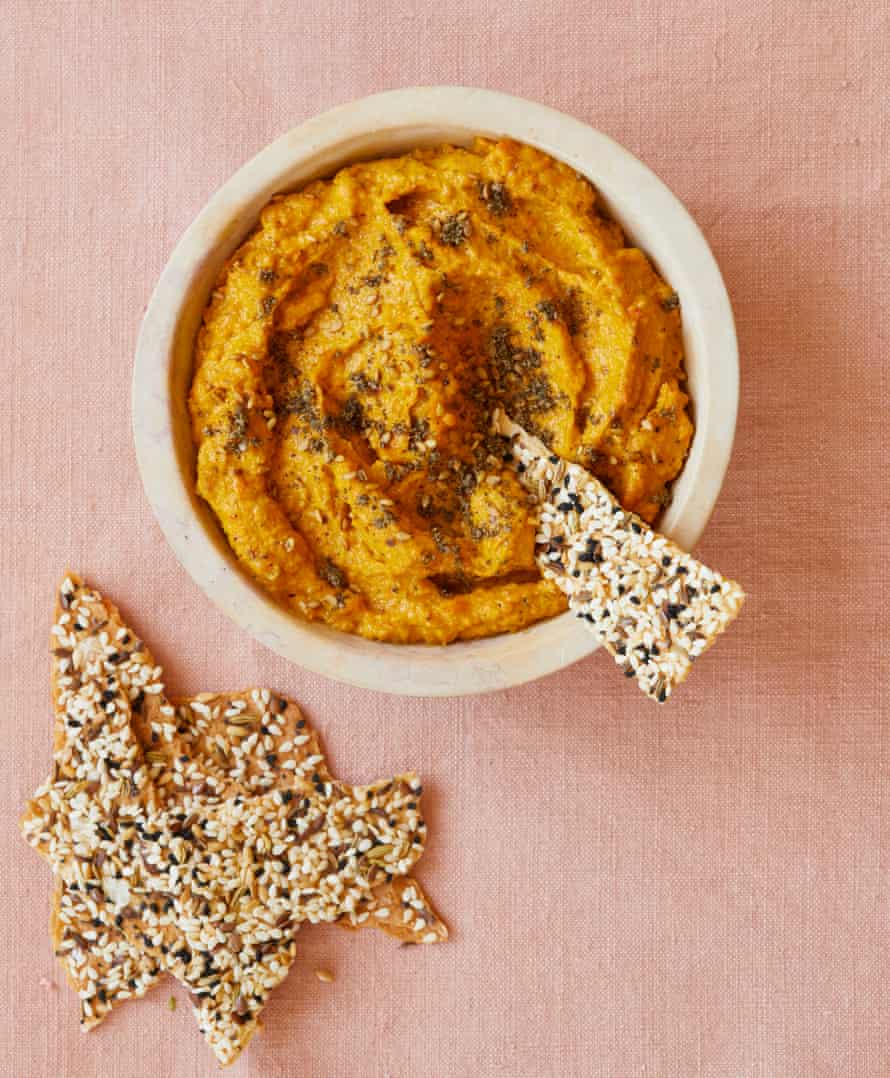 The goat curd brings a wonderful flavor and contrasting creaminess to the earthy carrots.
Preparation 15 minutes
cook 1h15
Serves 6
800g carrots, peeled and roughly cut into thick wedges
1 large fennel bulb, cut into quarters
1 garlic bulb, cloves separated but unpeeled
A few strands thymeplucked leaves
1 heaped teaspoon fennel seeds, roughly crushed
1 of baby pulp
Sea salt and black pepper
200 ml olive oil
100g of goat curd
Zest and juice 1 lemon
1 heaped tablespoon of zaatar (I like the one from Zaytoun)
Heat the oven to 200C (180C hot air) / gas 4. Put the carrot and fennel on a baking sheet, sprinkle with garlic, thyme, fennel seeds and baby pulp, season generously and sprinkle with 60 ml of olive oil. Roast for an hour, until the carrot and fennel are very tender, then remove and let cool. Squeeze the garlic from the skins, then put it in a food processor with the roasted vegetables and spices and mix gently. Add the goat curd, lemon zest and juice, season to taste and mix again until smooth. With the engine running, pour in the remaining oil in a steady stream and mix to combine. Pour into a serving dish, sprinkle the za'atar over it and serve with flatbread.
Green lentil hummus with crispy shallots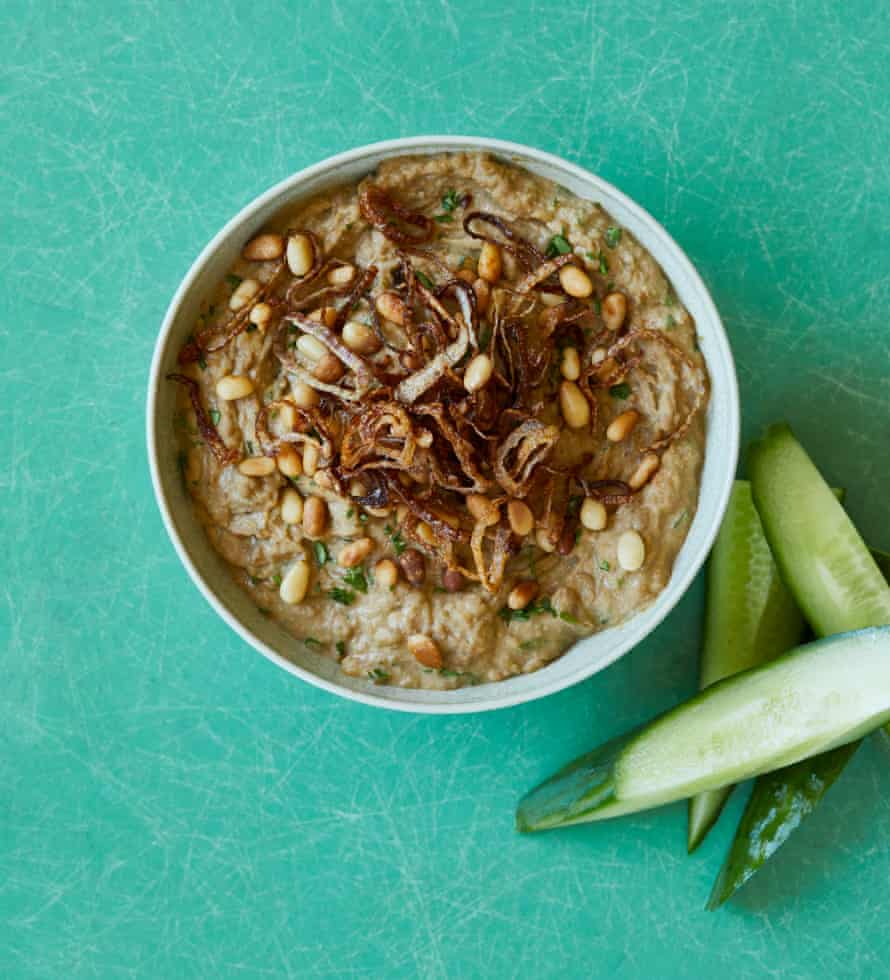 Hummus can be prepared with almost any pulse. I love it with green lentils which, unlike chickpeas, don't require pre-soaking. The addition of crispy shallots makes this dip more delicious.
Preparation 10 minutes
cook 1h10
Serves 6
800 ml of chicken or vegetable broth
175 green lentils
1 cinnamon stick
1 black cardamom, bruised
1 bay leaf
3 large cloves of garlic, peeled and finely chopped
60g of tahini
60 ml extra virgin olive oil, plus a supplement for watering
1 cumin seeds, toasted and finely ground
½ chilli powder
Juice 1 lemon
1 handle flat leaf parsley, finely chopped
1 handle toasted pine nuts
For the crispy shallots
Oil, for frying
2 shallot bananas, peeled and cut into very thin rounds
Sea salt
Fill a heavy-bottomed pan with 6-8cm oil and set over medium heat until it reaches 180 ° C on a thermometer (i.e. when a cube of bread becomes golden in 30 seconds). Prepare a plate covered with absorbent paper. Divide the shallots in the hot oil and fry them, turning and moving them frequently in the pan, until they are dark golden brown, then remove with a skimmer and drain on the paper-lined baking sheet. . Season with a little sea salt and let cool.
To make the dip, put the broth, lentils, cinnamon, cardamom and bay leaf in a saucepan and bring to a boil. Cover and simmer over low heat, stirring occasionally, about 45 minutes, until the lentils are tender. Uncover, bring to a boil and cook over high heat until most of the liquid has evaporated. Remove and discard the bay leaf, cinnamon and cardamom pod, then let the lentils cool slightly.
Pour the lentil mixture into a food processor, add the garlic, tahini, oil, spices and lemon juice, then mix until smooth. Stir in the parsley, season with salt, cumin and chili powder, then pour into a serving bowl. Drizzle with a little olive oil if desired, sprinkle with pine nuts and crispy shallots and serve.
Source link